So most everybody knows the Pillsbury Doughboy.  He's the famous advertising icon in all of Pillsbury's commercials since the late 60's.
Well turns out that if you go to his Wikipedia page, it reveals some information we had no idea about.
His real name.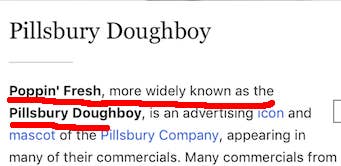 THAT'S RIGHT!  His name is Poppin' Fresh!
However wikipedia isn't always the most accurate source of knowledge but in this case it is 100% true.  A quick trip to the Pillsbury website will confirm that his name really is Poppin' Fresh.
-source via buzzfeed.com